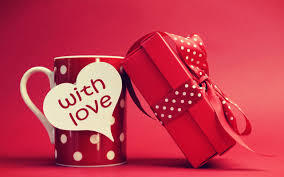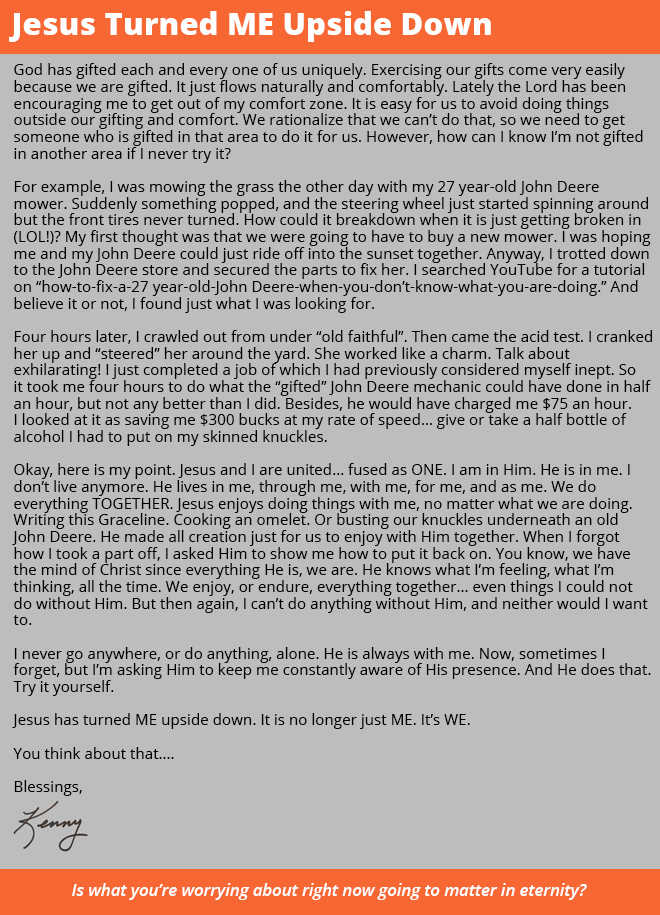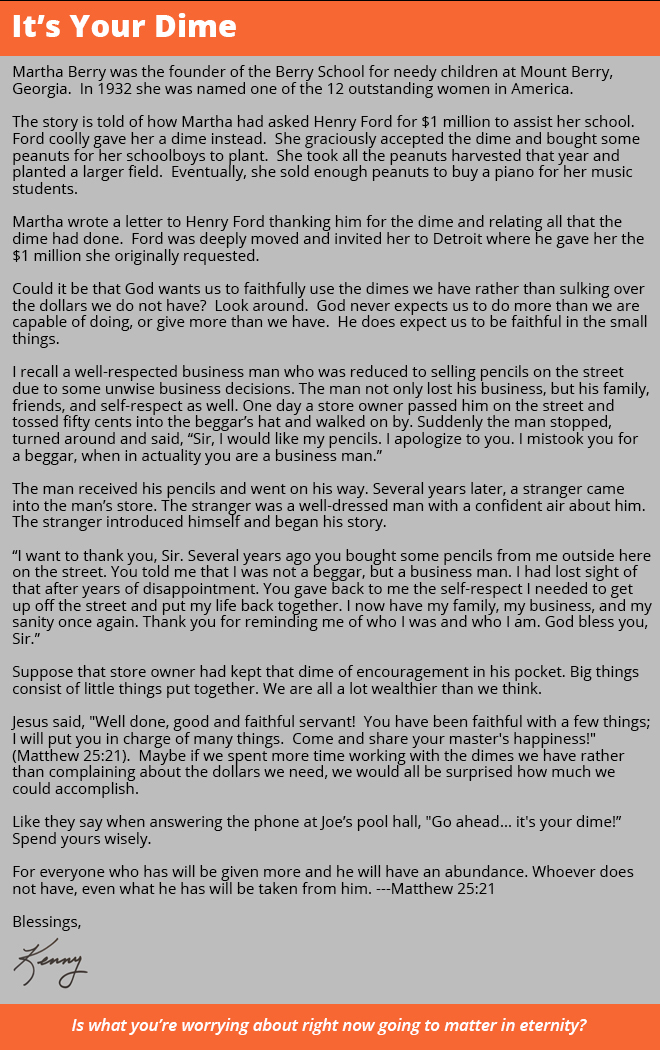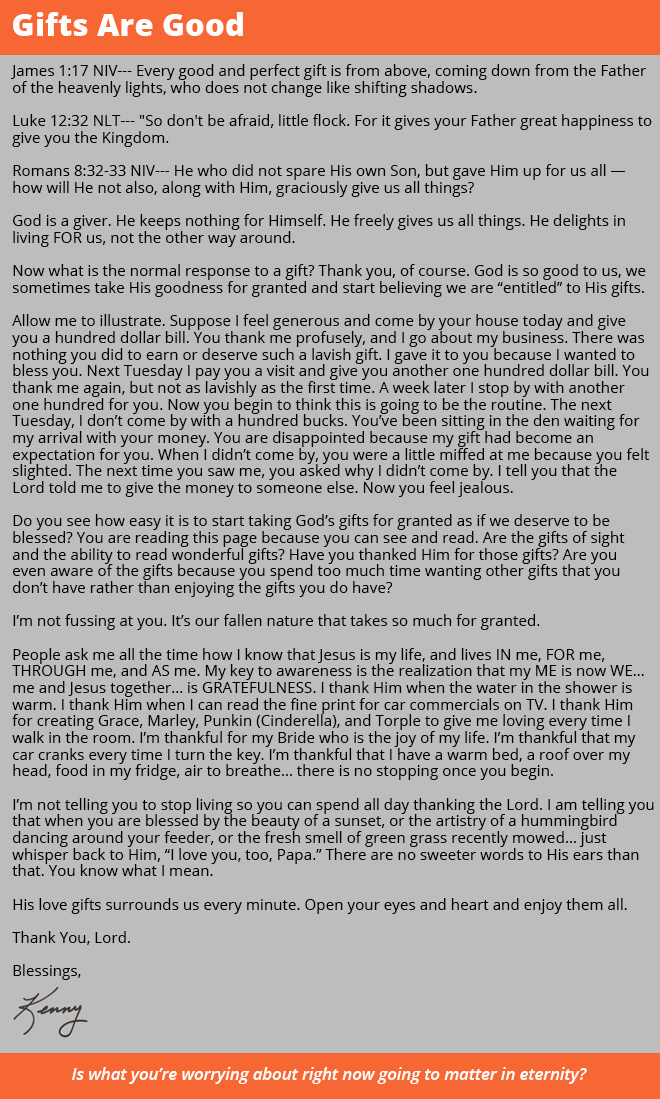 Gifts Are Good
James 1:17 NIV - Every good an perfect gift is from above, coming down from the Father of the heavenly lights, who does not change like shifting shadows.
Luke 12:32 NLT - "So don't be afraid, little flock. For it gives your Father great happiness to give you the Kingdom.
Romans 8:32-33 NIV - He who did not spare His own Son, but gave Him up for us all -- how will He not also, along with Him, graciously give us all things?...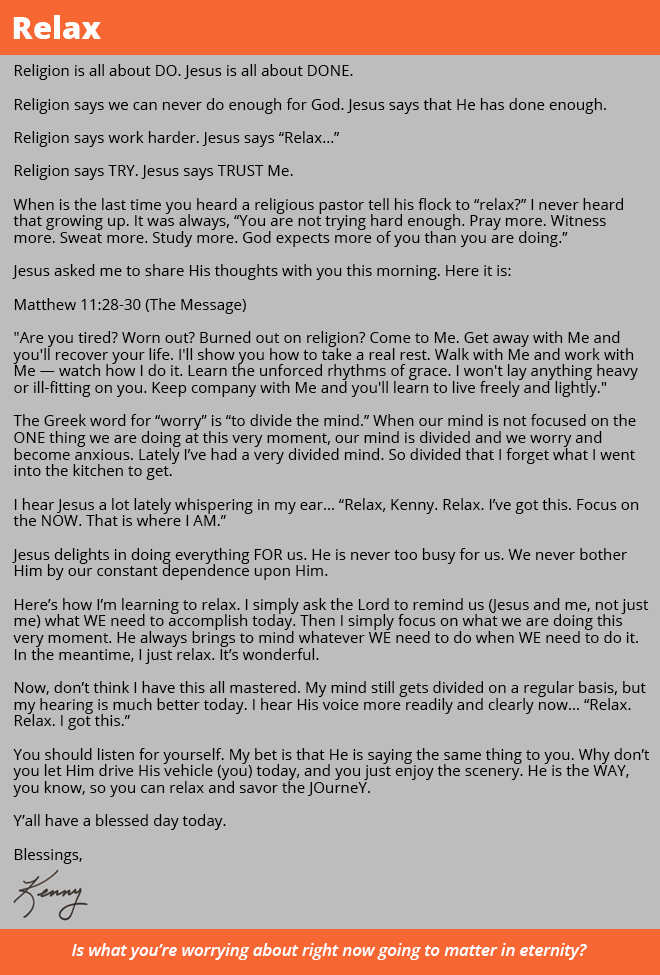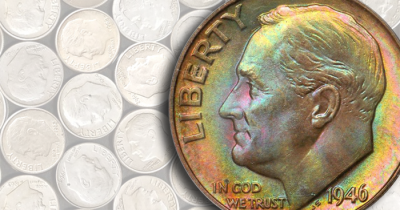 It's Your Dime
Martha Berry was the founder of the Berry School for needy children at Mount Berry, Georgia. In 1932 she was named one of the 12 outstanding women in America.
The story is told of how Martha had asked Henry Ford for $1 million to assist her school. Ford cooly gave her a dime instead. She graciouslyaccepted the dime and bought some peanuts for her schoolboys to plant. She took all the peanuts harvested that year and planted a larger field. Eventually, she sold enough peanuts to buy a piano for her music students.
Martha wrote a letter to Henry Ford thanking him for the dime and relating all that the dime...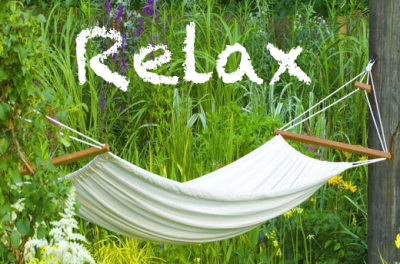 Relax
Religion is all about DO. Jesus is all about DONE.

Religion says we can never do enough for God. Jesus says that He has done enough.
Religion says work harder. Jesus says "Relax..."
Religion says TRY. Jesus says TRUST Me.
When is the last time you heard a religious pastor tell his flock to "relax?" I never heard that growing...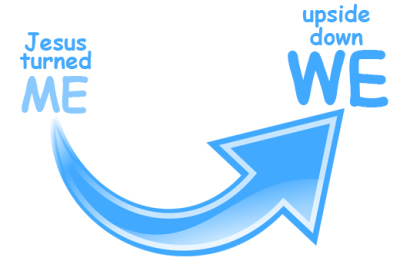 Jesus Turned ME Upside Down

God has gifted each and every one of us uniquely. Exercising our gifts come very easily because we

are gifted. It just flows naturally and comfortably. Lately the Lord has been encouraging me to get
out of my comfort zone. It is easy for us to avoid doing things outside our gifting and comfort. We rationalize that we can't do that, so we need to get someone who is gifted in that area to do it for us. However, how can I know I'm not gifted in another area if I never try it?
For example, I was mowing the grass the other day with my 27 year-old John Deere mower. Suddenly something popped, and the steering wheel just started spinning around but the front tires never...
​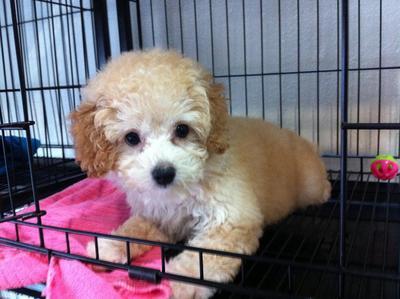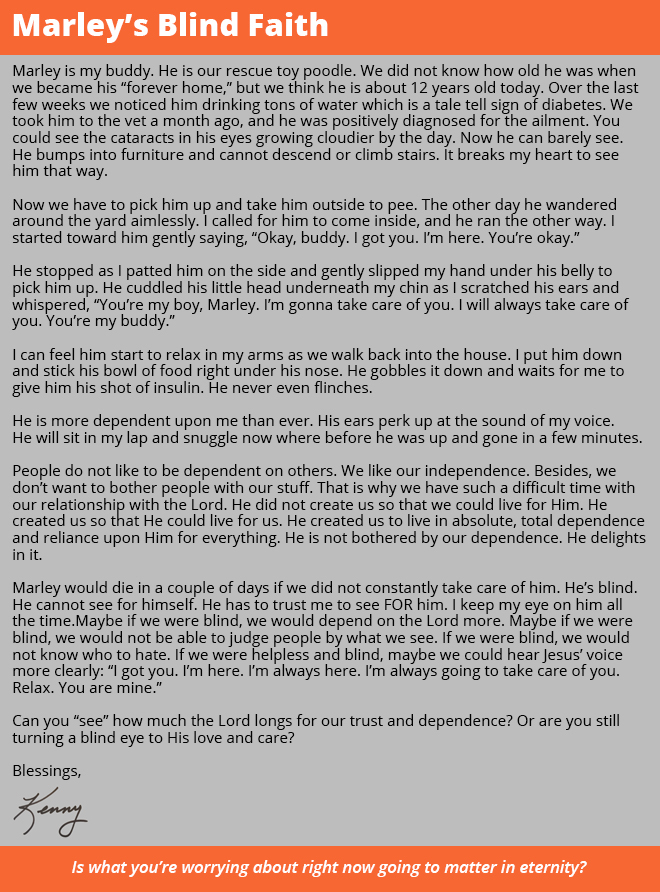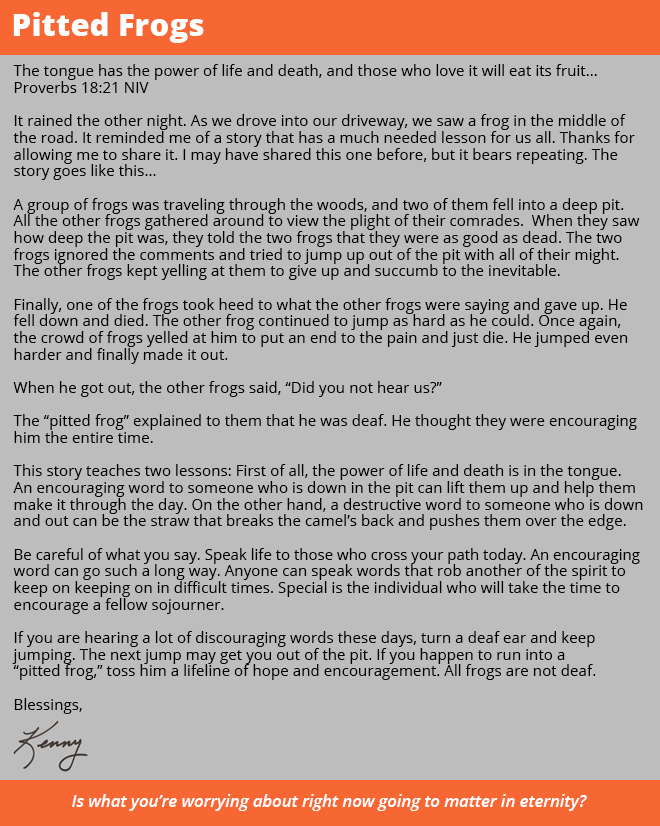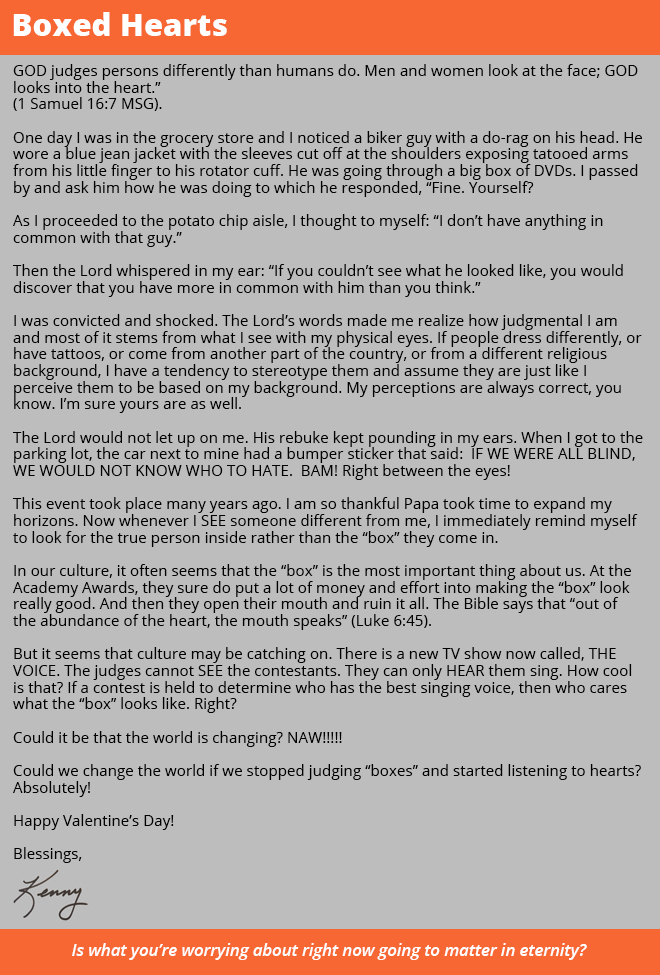 Marley's Blind Faith
​Marley is my buddy. He is our rescue toy poodle. We did not know how old he was when we became his "forever home," but we think he is about 12 years old today. Over the last few weeks we noticed him drinking tons of water which is a tale tell sign of diabetes. We took him to the vet a month ago, and he was positively diagnosed for the ailment. You could see the cataracts in his eyes growing cloudier by the day. Now he can barely see. He bumps into furniture and cannot descend or climb stairs. It breaks my heart to see him that way.​​

​Now we have to pick him up and take him outside to pee. The other day he wandered around the...

​
Pitted Frogs
The tongue has the power of life and death, and those who love it will eat its fruit… Proverbs 18:21 NIV
It rained the other night. As we drove into our driveway, we saw a frog in the middle of the road. It reminded me of a story that has a much needed lesson for us all. Thanks for allowing me to share it. I may have shared this one before, but it bears repeating. The story goes like this…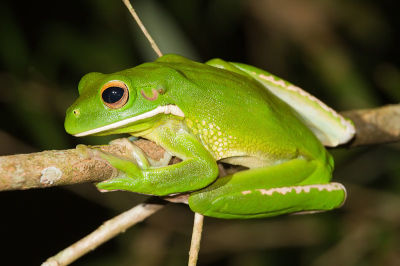 Boxed Hearts
GOD judges persons differently than humans do. Men and women look at the face; GOD looks into the heart." 

(1 Samuel 16:7 MSG).
One day I was in the grocery store and I noticed a biker guy with a do-rag on his head. He wore a blue jean jacket with the sleeves cut off at the shoulders exposing tatooed arms from his little finger to his rotator cuff. He was going through a big box of DVDs. I passed by and ask him how he was doing to which he responded, "Fine. Yourself?